Every dirt bike enthusiast knows that when it comes to the performance of a dirt bike, the engine is the heart of the matter. Today, we're going to dive into the specifics of the Tao Motor 125 DB17 Manual Dirt Bike's ↗ engine, an affordable yet power-packed wonder that truly stands out in the crowd.
A Heart that Roars
The Tao Motor 125 DB17 is equipped with a 125CC, air-cooled, 4-stroke, single-cylinder engine. Right off the bat, the engine's 4-stroke nature ensures a smooth and reliable operation, providing a steady power supply for those rugged terrains. The air-cooling feature is a huge plus too, playing a pivotal role in maintaining the engine's temperature, thus promoting longevity and consistent performance.
Kick Start and Chain Drive
Starting the Tao Motor 125 DB17 is a breeze thanks to its kick start system. This traditional method is well-loved by many riders for its reliability. Equipped with a chain drive transmission and a 4-speed engine gear (1-N-2-3-4), this bike offers a balance between control and power, making it ideal for both beginners and seasoned riders.
Fuel Capacity and Speed
With a fuel capacity of 1.5 Gallons (5.5 L), you can ride the Tao Motor 125 DB17 for long distances without worrying about fuel shortage. It's worth mentioning that this dirt bike can reach a maximum speed of up to 37 MPH (60 KM/H), providing you with a thrilling riding experience.
Sound Like Your Type of Bike?
The Tao Motor 125 DB17 Manual Dirt Bike ↗ is a powerhouse on wheels, and at an unbeatable price of $799.95, it offers unmatched value. Whether you are a beginner looking to get into the world of dirt biking or an experienced rider seeking an affordable yet reliable option, this bike won't disappoint. With its robust engine and impressive features, it's time to take your love for off-road biking to a whole new level.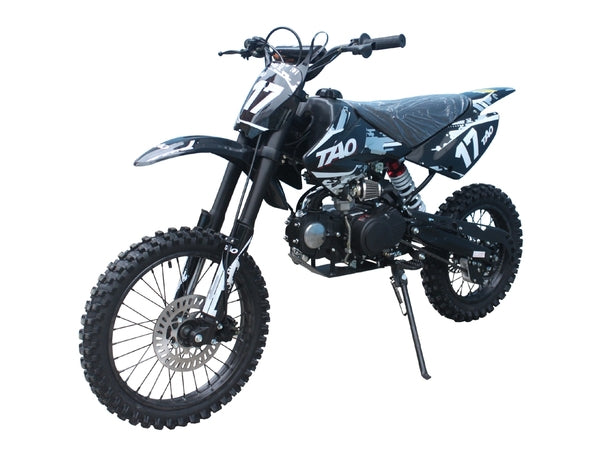 Hurry up and grab yours now! Remember, good things don't always come in large packages; sometimes they come with a kick start and a chain drive.