Hello, passionate riders and dirt bike enthusiasts! Today, we're going to delve into the bowels of one of the most exciting off-road machines available in today's market: the Tao Motor 125 DB17 Manual Dirt Bike ↗. With its robust design, powerful engine, and incredible performance, this bike is truly a marvel in the dirt bike world.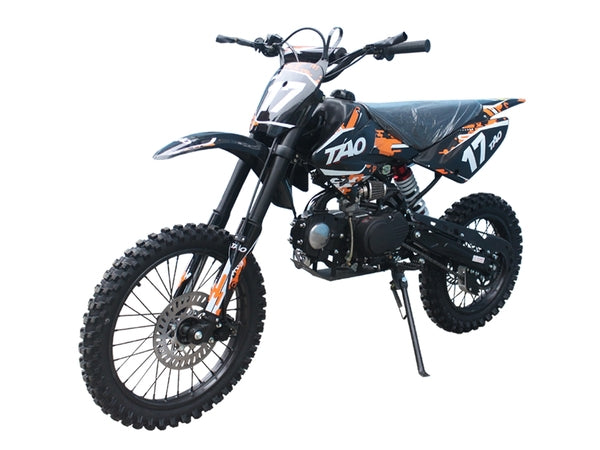 Engine and Power
The heart of the Tao Motor 125 DB17 is a 125cc, air-cooled, 4-stroke, 1-cylinder engine, offering the perfect balance of power and performance. The engine features a kick start and a manual transmission, giving you complete control over your ride. The bike can hit a maximum speed of 37 MPH (60 KM/H), ample for any off-road adventure.
Design and Dimensions
This beauty ↗ measures 70 x 30 x 43 inches overall, with a seat height of 34 inches and a ground clearance of 13 inches - perfect for tackling those rugged terrains. The bike weighs 200 LBS, making it a sturdy and stable choice for all your off-road needs.
Suspension and Brakes
The Tao Motor 125 DB17 boasts a hydraulic front fork and 275mm coilover rear shock, providing exceptional suspension and smooth rides even on the bumpy trails. The hydraulic disc brakes at both ends ensure excellent stopping power.
Tires and Rims
The bike sports 70/100 - 17 front tire and 90/100 - 14 rear tire, mounted on 1.6 x 17 steel front rim and 1.8 x 14 steel rear rim, ensuring excellent grip and control on all surfaces.
Additional Features
A high-performance 22mm Keihin carburetor and performance exhaust system together ensure that this bike delivers top-notch performance at all times. The black mild steel strong swing arm offers more rear wheel travel and ride height.
So, what are you waiting for? Get your hands on this fantastic Tao Motor 125 DB17 Manual Dirt Bike ↗ today and experience the thrill of off-road riding like never before. Remember, it's up for grabs at a tempting price of just $799.95, an absolute steal for the features it packs!