Hello, eco-conscious riders and scooter enthusiasts! Today, we will be diving deep into the intricate details of the TaoTao 150cc Phoenix Scooter's fuel consumption, a crucial factor for any savvy rider on the lookout for an efficient, cost-effective, and environmentally friendly mode of transportation.
Riding Efficiently with the TaoTao 150cc Phoenix Scooter
First off, let's cut to the chase. What's the fuel consumption of this modern marvel? Hold your breath, because the TaoTao Phoenix will astound you with an economic fuel consumption of 81 MPG (2.9 L/100Km). That's right, folks! This scooter is not just a pretty face; it's an economical powerhouse on two wheels.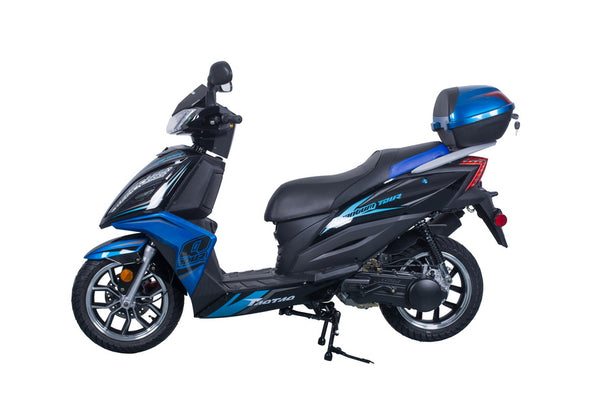 Remember, efficient fuel consumption is not only about saving money, it's also about reducing your carbon footprint and contributing to a greener planet.
Power Meets Economy
The TaoTao Phoenix is powered by a 150cc 4 Stroke GY6 Honda Clone Engine. This engine, originally manufactured in 50cc, 125cc, and 150cc sizes, is renowned for its reliability and fuel efficiency. With the Phoenix, you're getting the best of both worlds - power and economy.
Not to mention, this scooter comes with a fuel tank capacity of 1.32 Gallons (5.0 L), which means more miles of uninterrupted, worry-free riding. Imagine the places you could go without constantly worrying about your next fuel stop!
Why Choose the TaoTao Phoenix?
As if the impressive fuel efficiency isn't enough, the TaoTao Phoenix offers much more. It comes with a sporty design that blurs the line between scooter and motorcycle. It has 13" aluminum rims for better handling, a multi-start system (Electric Push-Button Start & Kick Start), and a comfortable seat height of 29.5 inches.
Moreover, it's street legal and comes with a Unique & Genuine Factory 17-Digits VIN Number. This makes the TaoTao 150cc Phoenix Scooter a perfect choice for daily commuting, weekend rides, and everything in between.
Grab Your TaoTao Phoenix Today!
So, are you ready to ride away with a scooter that sips fuel and saves your hard-earned money? Don't miss out on this golden opportunity to own the fuel-efficient TaoTao 150cc Phoenix Scooter. And guess what? It's currently on sale for a 42% discount! Just $1,099.95 gets you this fuel-saving beast. Hurry, grab yours before stocks run out!