As a parent, you're always on the lookout for the best for your little one. And when it comes to fun combined with safety, nothing beats the Tao Motor 125D Kids ATV ↗. But what makes it tick? What are the specific features that make it a crowd-favorite? Let's buckle up and take a ride down Feature Lane.
Leading the Pack
The Tao Motor 125D Kids ATV isn't just another kids' ATV in the market; it's a game-changer. Engineered with state-of-the-art technology and an eye for detail, it's your child's ticket to an unforgettable off-road experience.
The Heart of the Beast
At the core of this ATV is a single-cylinder, four-stroke engine that delivers ample power for all those adventurous rides. The automatic transmission means your child can concentrate on steering and maintaining balance without worrying about gear changes.
Safety First, Always
Safety is paramount, and the Tao Motor 125D Kids ATV ↗ has it in spades. The remote engine shut-off control enables you to take charge in case of any mishap. Additionally, the speed limiter helps maintain a safe speed limit depending on your child's riding skills.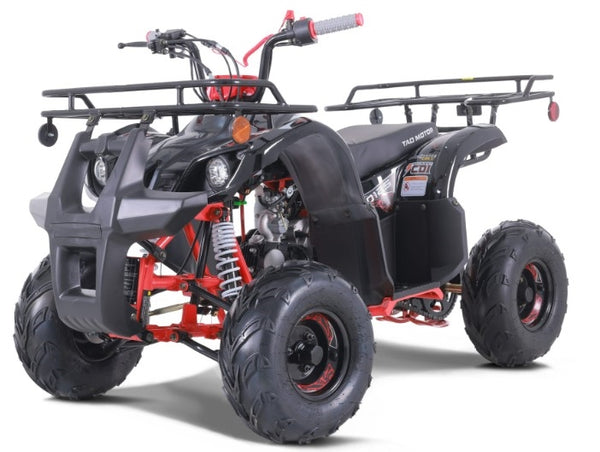 Built Like a Tank
The robust build quality is another aspect worth noting. Capable of handling a weight capacity of up to 132 lbs, this ATV is designed to withstand the rigors of off-road adventures.
Riding in Comfort
Comfort hasn't been compromised either. The large, soft seat ensures a comfortable ride, while the spacious footrests offer added stability.
The Perfect Ride
To sum it up, the Tao Motor 125D Kids ATV is a blend of power, safety, durability, and comfort. It's a vehicle designed to create lasting memories for your child while ensuring peace of mind for you.
Now that you're familiar with the fantastic features of the Tao Motor 125D Kids ATV ↗, why wait? Give your child the exciting and adventurous ride they deserve. Buy now ↗!