If there's one thing that sets a child's heart racing, it's the thrill of riding their very own ATV. And for that, the Tao Motor 125D Kids ATV ↗ on Power Ride Outlet is second to none. But, what is the current price of this exquisite four-wheeler? Allow me to unravel the mystery.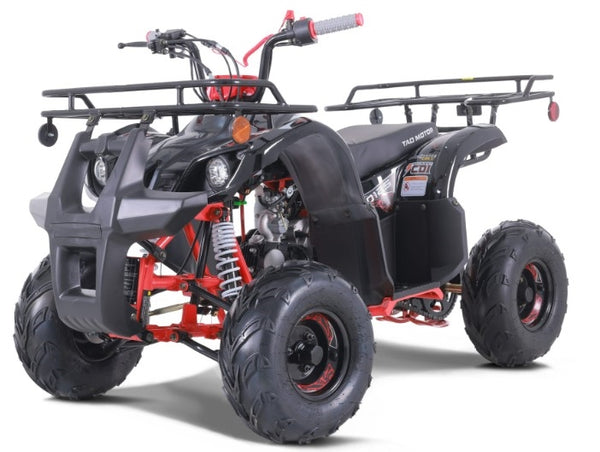 Rolling Out the Red Carpet
Before we dive into the specifics, let's take a moment to appreciate the elegance, safety features, and robustness that the Tao Motor 125D Kids ATV brings to the table. This ATV is not just a vehicle; it's an experience that your child will cherish.
The Current Price Tag
Today , the price of this ATV is a cool $599.95. Yes, you read that right! It's a steal deal for a premium ATV model that usually retails for $799.95. That's a whopping 25% savings on the original price! It's not every day you come across such a bargain, especially for a top-tier product like the Tao Motor 125D Kids ATV ↗.
Riding on Cloud Nine
The Tao Motor 125D Kids ATV is designed with a single-cylinder, four-stroke engine that provides a smooth ride while ensuring minimal noise and air pollution. Its automatic transmission ensures your child can focus on the joy of the ride without worrying about gear changes.
Safe and Sound
The safety features are top-notch, too. With a remote engine shut-off control and speed limiter, the ATV ensures that your child's safety is never compromised. Plus, its sturdy build can handle a weight capacity of up to 132 lbs.
An Offer You Can't Refuse
Considering the ATV's specifications, design, safety measures, and the joy it brings to your child, it's a golden opportunity. So, why wait? Grab this exceptional offer and get the Tao Motor 125D Kids ATV ↗ at a discounted price before it's too late!
Take the Plunge
Riding can be an exhilarating experience for your child, and the Tao Motor 125D Kids ATV is the perfect vehicle to start with. Don't miss this chance to give your child a memorable gift at an unbeatable price. Buy now ↗!