When searching for the perfect all-terrain vehicle (ATV) for your kids, there's a whole laundry list of considerations to keep in mind. From safety features to power levels to aesthetics, every detail matters. Today, however, we're going to focus on one critical aspect that often gets overlooked: the weight limit. Specifically, we'll be examining the weight limit of the Tao Motor 125D Kids ATV ↗, a popular choice available on Power Ride Outlet.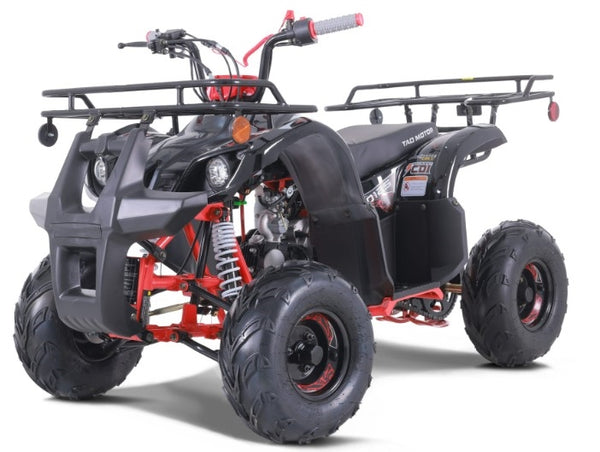 Why Does Weight Limit Matter?
Before we dive into the specifics, let's take a moment to understand why the weight limit is so crucial. Simply put, the weight limit affects the ATV's performance and safety. An overloaded ATV can struggle to deliver optimal performance and may even risk tipping over, leading to potential accidents. Therefore, knowing the weight limit is key to ensuring a safe and enjoyable ride for your child.
The Tao Motor 125D Kids ATV ↗ has a generous weight limit designed to accommodate a wide range of riders. This model boasts a weight limit of approximately 132 lbs (60 kg). This makes it an excellent choice for children of various ages and sizes, ensuring they can enjoy the thrill of the ride without compromising safety or performance.
Beyond the Weight Limit: Other Noteworthy Features
The Tao Motor 125D Kids ATV isn't just about accommodating a wide range of weights. This ATV is also packed with a host of features that make it a standout choice for any young rider.
Powerful Performance: The 125D features a robust 125cc engine, offering just the right amount of power for young adventurers without being overwhelming.

Safety First: Safety features include a speed limiter and a remote control kill switch, providing parents with peace of mind when their kids are out riding.

Comfortable Ride: With its large, durable tires and comfy seating, the 125D is designed to deliver a smooth and comfortable ride on a variety of terrains.

Aesthetically Pleasing: Available in several vibrant colors, the 125D allows kids to express their individuality while riding in style.
Wrapping Up
Understanding the weight limit of an ATV is crucial, but it's just one piece of the puzzle. With the Tao Motor 125D Kids ATV, you're not just getting a vehicle with a generous weight limit—you're also getting a machine packed with features designed to deliver a safe, comfortable, and exciting ride.
If you're looking for an ATV that checks all the boxes and is suitable for your child, look no further than the Tao Motor 125D Kids ATV ↗ available on Power Ride Outlet.