When evaluating the performance of an all-terrain vehicle (ATV), one important factor to consider is its maximum torque. But what exactly is the maximum torque of the Tao Motor 125D Kids ATV ↗? Let's explore this critical performance characteristic and why it matters.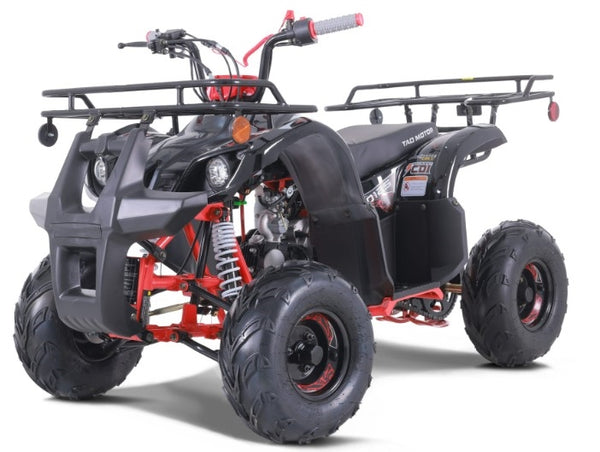 Understanding Maximum Torque
Torque refers to the twisting force that causes rotation - in an ATV, it's what helps the vehicle overcome obstacles and handle tough terrains. The 'maximum torque' is the highest amount of torque the ATV's engine can produce, contributing to its overall power and performance.
Tao Motor 125D Kids ATV Maximum Torque
The Tao Motor 125D Kids ATV is equipped with a 125cc, 4-stroke engine that delivers a maximum torque of 6.5 N.m/5000-5500r/min. This value indicates that the Tao Motor 125D has plenty of power to tackle a variety of terrains, making it a versatile choice for your child's off-road adventures.
Why Maximum Torque Matters
A higher maximum torque allows for greater pulling power and acceleration. This means that the ATV can handle steep inclines, rough terrains, and heavy loads more effectively. For young riders, this translates into a more exciting and engaging riding experience.
Beyond Maximum Torque
While maximum torque is an important aspect of performance, the Tao Motor 125D Kids ATV has much more to offer. With its automatic transmission, robust safety features, and durable construction, it provides a safe and thrilling ride for children.
Summary
In conclusion, the Tao Motor 125D Kids ATV ↗ boasts a substantial maximum torque, enabling it to deliver impressive performance across various terrains. Coupled with its other standout features, this ATV is a fantastic choice for your child's first off-road vehicle.
Ready to invest in an ATV that offers both safety and performance? Order the Tao Motor 125D Kids ATV today ↗!