When it comes to all-terrain vehicles (ATVs) for kids, the Tao Motor 125D ↗ stands out as a versatile and reliable choice. But you might be wondering, "Is it suitable for all terrains?" This in-depth review will provide you with a definitive answer.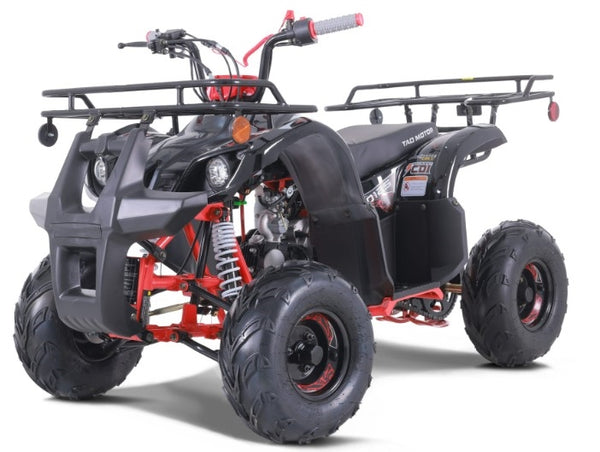 Built to Last
The Tao Motor 125D Kids ATV is built with a sturdy steel frame, designed for durability and to withstand the rough-and-tumble of off-road adventures. Moreover, its powerful four-stroke engine ensures a smooth ride, no matter the terrain. With such robust construction, this ATV can take on anything from dirt tracks to hilly landscapes.
Safety First
Safety is paramount when it comes to kids' ATVs. On that note, the Tao Motor 125D comes equipped with a speed limiter and remote control shut off, allowing parents to maintain control in potential danger scenarios. This feature, coupled with front drum and rear hydraulic disc brakes, ensures a safe ride on any terrain.
Versatility Unmatched
What really sets the Tao Motor 125D ↗ apart is its versatility. Its automatic transmission makes it easy for kids to handle, while the wide, stable tires provide excellent grip on a variety of surfaces, from sandy beaches to muddy trails.
Testimonials
Don't just take our word for it! Here are a few testimonials from satisfied customers:
"My daughter loves her new ATV. We've tried it on various terrains, and it performed excellently." - John D.

"The Tao Motor 125D offers peace of mind with its safety features. It's definitely suitable for all terrains!" - Mary S.
Conclusion
So, is the Tao Motor 125D Kids ATV suitable for all terrains? Absolutely! Its solid construction, safety features, and versatility make it the perfect ATV for any adventurous kid.
Don't miss out on this opportunity. Order the Tao Motor 125D Kids ATV now ↗ and make your kid's off-road dreams come true!