Introduction:
The Tao Motor 125 New 125D Kids ATV is a limited edition model that is specifically designed for kids. It comes with a range of features that make it a great choice for parents looking to buy their kids an ATV. In this blog, we will discuss the features of this ATV and why it is a good buy.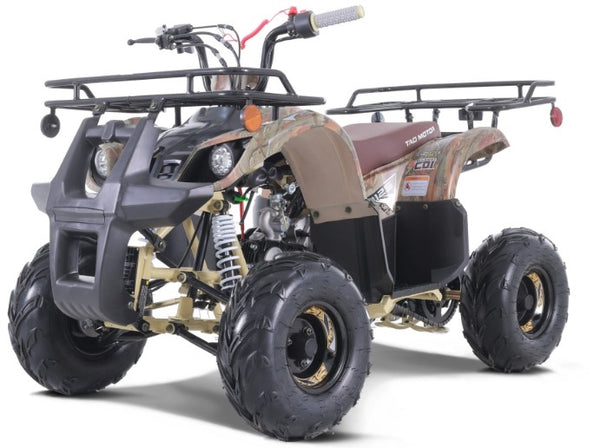 Design and Features:
The Tao Motor 125D Kids ATV comes with a hummer utility style design that is perfect for camping, desert or sand riding. It has a front and rear cargo rack included for added convenience. The ATV is equipped with Remote Engine Shut Off Control for Child Safety and Speed Limiter for Easy Learning. This feature ensures that the ATV can be easily controlled by kids, and parents can limit the speed of the ATV to ensure their child's safety.
The ATV comes with a fully automatic transmission that gives the pleasure of twist throttle and go for anyone who just wants to ride out and have fun. It comes with a 107cc Four Stroke, Single Cylinder engine that delivers a maximum torque of 6.5N.m/5000-5500r/min. The ATV has a maximum weight capacity of 132lbs and can accommodate kids and most adults.
The ATV has a seat height of 24.81 inches, which is perfect for kids and youth. The ATV is available in three different camouflage colors: Green Camouflage, Pink Camouflage, and Maple Camouflage. The ATV also comes with a range of specifications like ATV displacement ml, battery, carb, cooling, engine type, final drive, front brake, front tire, gross weight lbs, ground clearance inch, height inch, ignition, kids/youth adult ATV, length inch, max stock horsepower, net weight lbs, rear brake, rear tires, seat height inch, starting system, transmission, weight, wheelbase inch, and width inch.
Price and Availability:
The Tao Motor 125 New 125D Kids ATV is priced at $799.95, and with a limited time offer, it is available for just $599.95. The ATV is available for purchase on Power Ride Outlet – PowerRideOutlet, and it is currently in stock and ready for shipping.
Conclusion:
The Tao Motor 125 New 125D Kids ATV is a perfect choice for parents looking for an ATV for their kids. Its design and features make it a great value for money, and its safety features ensure that parents can relax knowing that their child is safe while riding it. With its fully automatic transmission, kids can easily learn to ride it, and its speed limiter ensures that they do not go too fast. At its current price, the Tao Motor 125 New 125D Kids ATV is definitely worth considering.