When investing in a vehicle like the Tao Motor 125D Kids ATV ↗, one essential consideration is the accessibility of spare parts. After all, your child's ATV might need some maintenance or parts replacement over time. So, how easy is it to find spare parts for the Tao Motor 125D? Let's find out.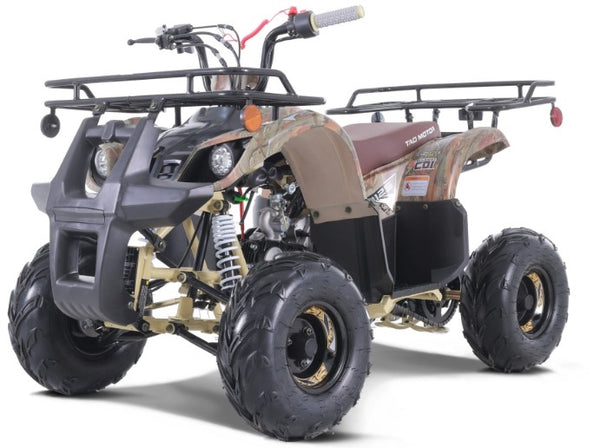 Tao Motor 125D: Built to Last
The Tao Motor 125D Kids ATV is designed with durability in mind. Its robust construction and quality components ensure longevity. However, like any vehicle, it may require occasional maintenance and parts replacement.
Accessibility of Spare Parts
Tao Motor, the manufacturer of the 125D Kids ATV, maintains a comprehensive inventory of spare parts. This means you can easily find the necessary parts for your ATV, whether it's a replacement tire, brake pad, or engine component.
Purchasing Spare Parts
Spare parts for the Tao Motor 125D can be purchased directly from Tao Motor or authorized dealers like Power Ride Outlet. This ensures you're getting genuine parts that perfectly fit and function with your ATV.
Importance of Genuine Spare Parts
Using genuine spare parts is crucial to the performance and safety of your Tao Motor 125D. These parts are designed and tested to meet the highest standards of quality and compatibility with your ATV.
The Tao Motor 125D: More Than Just Spare Parts
While the ease of finding spare parts is a key advantage, the Tao Motor 125D Kids ATV offers much more. Its impressive features, including a robust engine, safety controls, and durable construction, provide a thrilling yet safe ride for your child.
In Summary
So, are spare parts easily accessible for the Tao Motor 125D Kids ATV? Absolutely! With a comprehensive selection of genuine spare parts available from the manufacturer and authorized dealers, you can rest assured that maintaining your child's ATV will be a breeze.
Ready to invest in a durable and reliable ATV for your child? Order the Tao Motor 125D Kids ATV from Power Ride Outlet today ↗!